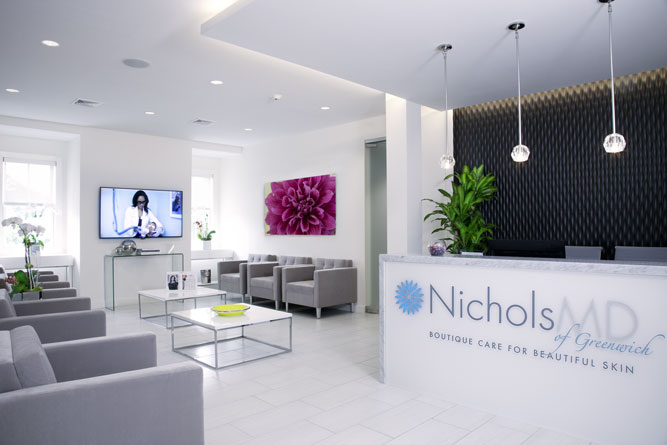 A Personal Note from Dr. Nichols
Hello 2018!
At NicholsMD, we're already underway with some of our big 2018 initiatives that we know you're going to love, such as adding another state-of-the-art aesthetic room, being open more hours in the day and more days of the week, as well as offering a NicholsMD Membership Program, (hint hint: it will include monthly B12 injections , laser hair removal treatments, and much more) in one low monthly membership fee.
One of my favorite moments this month was sharing some of my winter skin tips with you and America on Megyn Kelly Today! Among some of the tips I gave: Put moisturizer on damp skin right out of the shower and use sunscreen every day even in the winter. And easy on the exfoliating!
Catch the full 2-minute clip here on how to keep your skin glowy and hydrated this winter.
I would also like to thank Greenwich Magazine for publishing this month's article, "Women's Health: Too Embarrassed To Ask? We're Not". I was very pleased to be asked to be one of their experts  to answer common questions women don't always ask in regards to their health, but should. (Men, you'll want to read this story, too). Click here for the full article.
My staff and I hope to see you in the office soon so we can help you look your best and most confident today and every day!
Best,
Dr. Nichols
Specials and Features
Procedure Spotlight:
CoolSculpting in 45-Minutes

Summer Bodies Start in the Winter!
Summer Bodies Start in the Winter! January is the time to commit to your New Year's Resolutions. So, we've selected this month's procedure spotlight to be CoolSculpting, a procedure which non-surgically freezes away fat to help you look and feel like your best self in 2018.
CoolSculpting is the only FDA-cleared procedure that uses controlled cooling to safely target and remove diet and exercise-resistant fat. CoolSculpting technology delivers precisely-controlled cooling to gently and effectively target the fat cells underneath the skin. The treated fat cells are crystallized (frozen), and then disintegrate. Over time, your body naturally processes the fat and dispenses these dead cells, leaving a more sculpted you, especially in areas like the stomach, thighs, and under the chin!
CoolSculpting starts at $750 per area and you can save up to 33%* on your own transformative CoolSculpting treatment. *The more you buy, the more you save!
Not sure where to start? Schedule a consultation! NicholsMD offers complimentary, 360-degree Coolsculpting Consultations.
Aesthetician's Corner
The #1 Aesthetic Treatment at NicholsMD in 2017 –> Dermaplaning!
As I reviewed the past year, I was not surprised that the #1 scheduled aesthetic treatment at NicholsMD was dermaplaning. This treatment uses a blade to gently remove dead skin and vellus hair (or peach fuzz) from the face revealing brighter looking skin. The best part of this treatment? Your products penetrate deeper and your skin is smoother, which not only feels great, but also allows make-up to be applied more evenly! With zero downtime, and only a $120 per treatment, this aesthetic treatment is a must-have before any event!
Insider's Tip -> Upgrade the dermaplaning by adding an 24K gold masque with hyaluronic acid (a skincare ingredient that retains moisture) for the ultimate glow!
Article Written by Jessica Bergquist, NicholsMD's Licensed Medical Aesthetician
[/two_third]
Stay Warm & Prevent Frostbite
With much of the country experiencing sub-zero temperatures, frostbite is a real threat. Keep these tips in mind before hitting the ski slopes or heading outdoors!
Dress in loose, light, comfortable layers: Wearing loose, light layers helps trap warm air. The first layer should be made of a synthetic material, which wicks moisture away from your body. The next layer should be insulating. Wool and fleece are good insulators and hold in more body heat than cotton. The top layer should be windproof and waterproof. A down parka and ski pants can help keep you dry and warm during outdoor activities.
Protect your feet and toes: To protect your feet and toes, wear two pairs of socks. The first pair, next to your skin, should be made of moisture-wicking fabric. Place a pair of wool or wool-blend socks on top of those. Your boots should also provide adequate insulation. They should be waterproof and cover your ankles. Make sure that nothing feels tight, as tight clothing increases the risk of frostbite.
Protect your hands: Wear insulated mittens or gloves to help protect your hands from the cold, like Katie French, M.S, PA-C pictured here!
Keep yourself hydrated: Becoming dehydrated also increases the risk of developing frostbite. Even if you are not thirsty, drink at least one glass of water before you head outside, and always drink water or a sports drink before an outdoor workout. In addition, avoid alcohol, as it increases your risk for frostbite.
Recognize the symptoms: In order to detect frostbite early, when it's most treatable, it's important to recognize the symptoms.  The first signs of frostbite include redness and a stinging, burning, throbbing or prickling sensation followed by numbness. If this occurs, head indoors immediately.
Click Here to read the full article by the American Academy of Dermatology!
Meet the Doctor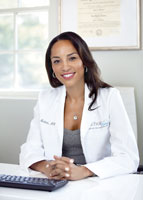 Dr. Kim Nichols is the Founding Director of NicholsMD of Greenwich. A board-certified dermatologist and cosmetic surgeon, Dr. Nichols is renowned for her expertise in the fields of cosmetic and medical/surgical dermatology. She has been featured as an expert speaker by numerous pharmaceutical, dermatological, skin care companies and organizations, such as The Dr. Oz Show, Better Homes and Garden Magazine, CBS New York, USWeekly, Women's Health Magazine, Today.Com, and News Channel12. Dr. Nichols is also a Medical Council Physician Member of The Skin Care Foundation.
Dr. Nichols graduated Cum Laude from Harvard University and attended NYU Medical School. She completed her internship in Internal Medicine at St. Luke's Roosevelt Medical Center and completed her dermatology residency at KDMC/Harbor-UCLA Medical Center in Los Angeles. 

Beyond her leadership in the medical field, Dr. Nichols is a Board Member of the Greenwich, CT YWCA, and Greater New York City American Red Cross. Dr. Nichols lives in the area with her husband and three small children.[/two_third]