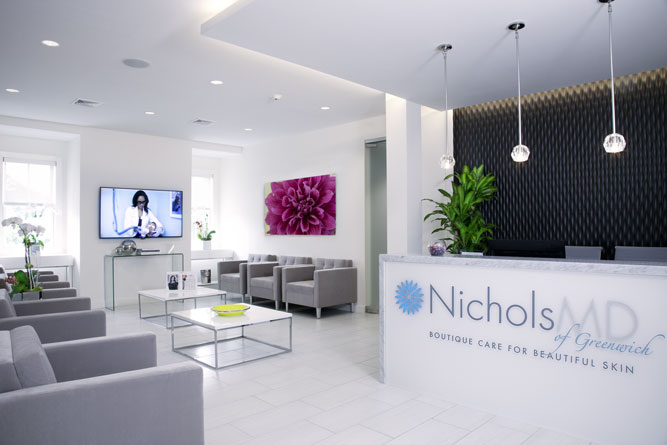 A Personal Note from Dr. Nichols
An early Happy Thanksgiving to you! I hope you are enjoying this crisp fall weather and getting ready to celebrate the season with your families.
Here at NicholsMD, we are deep into our busy pre-holiday season, helping our clients look their best for all the holiday social events coming up. One thing that always comes up during these times is food. Lots and lots of food! We all tend to eat a lot more than normal during the holidays, and not all of it is very good for us. But we also need to indulge once in a while and enjoy the good times without any restrictions! So what can you do the rest of the time to eat the best you can for beautiful healthy skin? In the educational article below, I discuss some of the best foods you can eat to keep you looking your best from the inside out.
Speaking of strong, beautiful, and confident women, here is my office manager, Emily (still on maternity leave), speaking at the SkinCeuticals Insiders' event this weekend doing a presentation on "How-To Guide to Building a Cosmetic Empire. " She was amazing! I'm so proud!
Have a great time this Thanksgiving and be thankful for being the strong, beautiful and confident person you are!
Best,
Dr. Nichols
Specials and Features
Procedure Spotlight:

The Ultimate Eye Rejuvenation!
Purchase 1 Ultherapy Under-Eye Treatment ($750) and
Receive 1 area of Xeomin for Crows' Feet Treatment (a $350 value) FREE!!
One of the first things we notice about someone is their eyes, which can be a true tell of their age. Puffiness, crepiness, and wrinkling around the eye area are common as we age because the skin is so thin. Clients often ask what can be done to treat this delicate area? We have the ultimate eye rejuvenation solution for you Ultherapy and Xeomin.
Ultherapy is an FDA-cleared treatment that uses micro-focused ultrasound energy to lift and tighten the skin and help stimulate collagen – with NO downtime! By delivering micro-focused energy to certain depths at just the right temperature, Ultherapy helps trigger the regenerative process to produce new collagen. Our Ultherapy under-eye treatment is relatively quick and results take about 3-4 months to fully set in. While you will notice a tightened and more youthful appearance around the eye, this treatment is very preventative as well.
About 1 week after your Ultherapy treatment, Xeomin can then be administered to the crows' feet area as a finishing touch. Just like Botox, Xeomin relaxes the muscle contraction that creates the wrinkles around the lateral part of the eye. Results take about 1 week to set in, and lines and wrinkles are softened dramatically.
Christie Brinkley is now the official spokeswoman for both Ultherapy and Xeomin (and who wouldn't want to look as good as she does!) Here's what she had to say about the treatments to People magazine:
"It was like a non-invasive pick-me-up. When I look in the mirror, I want to feel like I look as good as I feel. And if you can have something done to feel more confident and better about yourself, then you feel like your face matches your spirit – and my spirit is enthusiastic and energetic."
Aesthetician's Corner
What NOT to do for good skin!
There are many bad habits people have in terms of skin care that they don't think will actually affect them. Truth is, what you're doing to your skin now may not seem so bad, but it will negatively affect your "future skin" in terms of how it will look, feel, and age. Here are a few tips of what NOT to do for good skin
DO NOT over exfoliate your skin.We are told to exfoliate for cell regeneration and to get the dead skin cells off of the surface. However, less is more! When you over-exfoliate your skin with harsh products (i.e. St. Ive's facial scrub – yuck!) you are actually stripping down your skins' natural barrier and leaving it open and vulnerable to sun exposure and harmful bacteria. This can leave your skin irritated and even damaged. Everyone's skin is different and can tolerate different things, but keep your mechanical "scrub" exfoliation or Clarisonic brush to only one to two times a week. If you are using chemical exfoliation such as AHA/BHA acids or Retinol, you may not need to do any other exfoliation. Once a month, come in to NicholsMD for a professional exfoliation treatment such as dermaplaning, microdermabrasion, a chemical peel, or a laser treatment.
DO NOT pick and pop your own pimples. So many people think popping pimples will help the situation, which more often than not, actually makes it worse. The bacteria from under your fingernails can spread and cause more breakouts, and the pressure from your nails can cause scarring. There are also papules that aren't meant to be popped and just need to heal on their own or be treated in the aesthetician's room with chemical exfoliation, high-frequency currents or LED light therapy. So please, save your skin and leave the extracting to the professionals!
DO NOT go to sleep without washing your face. No matter how tired you are, it is imperative to wash your makeup off at night. Without washing, your skin is harboring bacteria and is getting clogged and congested which leads to breakouts and large pores. Our skin rejuvenates itself overnight, so it is super important to wash off all of the day's debris. Take the extra few minutes to go to bed with clean skin and apply a few good products to help repair and rejuvenate your skin overnight.
Lastly but most importantly – DO NOT skip out on SPF! Believe it or not, SPF is the number one anti-aging product because the sun's harmful rays are the number one thing that cause pre-mature aging, and even worse, skin cancer. Use a broad-spectrum SPF like SkinCeuticals Physical UV Defense SPF 50 and protect your skin. Your future skin will thank you for it!
Article Written by Jessica Bergquist, NicholsMD's Licensed Medical Aesthetician
Staff Picks
Shirley Carrion, Client Coordinator 
Becoming a mother at 19, I never imagined I would suffer from incontinence so early in life. Getting back into shape as fast as I would like to was difficult because many things caused incontinence. I couldn't run as fast as I used to; I couldn't jump rope with my daughter; I avoided laughing too hard because I would leak. I was told over and over again by my gynecologist and urologist, that kegel exercises were the only thing that could help. But let's be honest, how many times can someone remember to do kegels throughout the day?
It wasn't until I began working for NicholsMD and I was asked if I would like to try their new device for laser feminine rejuvenation, the CO2RE Intima. I finally had hope that I would no longer struggle with incontinence. I can't emphasize enough how the CO2RE Intima changed my life. It painless and effective. A month after my first treatment, I noticed an improvement with my incontinence problem as well as an improvement in sexual gratification. I highly recommend this procedure. It truly helped boost my confidence and most importantly I am able to jump and play with my daughter.
Growing up, I loved wearing makeup. Especially because it helped cover blemishes and acne. Many times I would wonder why my skin would still breakout. I felt like I had tried all of the cleansers you can find to help aid acne. I never felt confident enough to leave my house with a bare face until now.
After using Skinceuticals LHA Cleansing Gel for little over a year, there has been a drastic improvement in my skin. It's clearer, brighter and even feels firmer! I never skip a day or night without washing my face with LHA Cleansing Gel. This gel-to-foam cleanser helps clarify your skin by gently exfoliating dead skin cells and decongesting your pores, and with the help of its main ingredient, lipo hydroxyacid, it also diminishes the appearance of fine lines, wrinkles and rough texture.
Meet the Doctor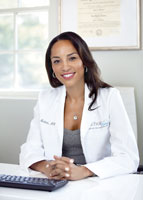 Dr. Kim Nichols is the Founding Director of NicholsMD of Greenwich. A board-certified dermatologist and cosmetic surgeon, Dr. Nichols is renowned for her expertise in the fields of cosmetic and medical/surgical dermatology. She has been featured as an expert speaker by numerous pharmaceutical, dermatological, skin care companies and organizations, such as The Dr. Oz Show, Better Homes and Garden Magazine, CBS New York, USWeekly, Women's Health Magazine, Today.Com, and News Channel12. Dr. Nichols is also a Medical Council Physician Member of The Skin Care Foundation.
Dr. Nichols graduated Cum Laude from Harvard University and attended NYU Medical School. She completed her internship in Internal Medicine at St. Luke's Roosevelt Medical Center and completed her dermatology residency at KDMC/Harbor-UCLA Medical Center in Los Angeles. 

Beyond her leadership in the medical field, Dr. Nichols is a Board Member of the Greenwich, CT YWCA, and Greater New York City American Red Cross. Dr. Nichols lives in the area with her husband and three small children.[/two_third]