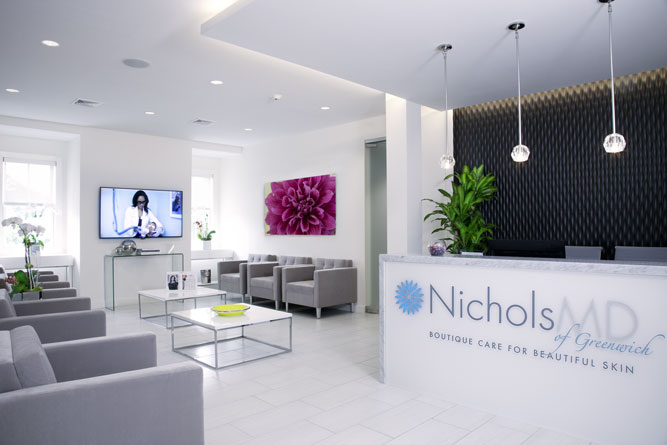 A Personal Note from Dr. Nichols
First and foremost, I would like to extend a warm thank you to the 100+ guests who came out on June 6th to celebrate NicholsMD's 4th Anniversary in Greenwich!  This festive event was exactly how we wanted to express our gratitude to each and every one of you for helping us reach this milestone.
Here are some of my favorite shots of the evening courtesy of Greenwich Magazine's photographer, Kristin Hynes:
Another highlight for me this month was having the opportunity to see many of you at the Greenwich International Film Festival while my team and I administered B12 injections during Flo Rida's amazingly energetic performance!
With summer fast approaching, I'm thrilled to announce that we have added a few brand-new, summer-safe treatments to the NicholsMD services menu:
New! Vitamin IV Therapy
Now Scheduling Appointments Beginning July 1, 2017!
Our clients love our B12 vitamin injections, so we're bringing on even more powerful 45-minute, Vitamin IV Therapy to increase your energy, support your weight loss goals, brighten your skin, and help you to quickly return to your best self after a long summer weekend.
Book your July appointment in the month of June and you'll receive an instant $50 off.
New! Silhouette InstaLift: A Non-Surgical Solution to Lift and Contour Your Appearance Instantly 
Now Scheduling! The Silhouette InstaLift is a new face-lifting technique that is performed with only a local anesthetic in less than an hour. Click here to schedule!
As the school year winds down and summer fun kicks in to high gear, I look forward to connecting with you soon to help you look and feel your most beautiful, confident self.
Best,
Dr. Nichols
Specials and Media
Aesthetician's Corner
As an aesthetician, I am always searching for what's new in the aesthetics field to offer my clients the most cutting-edge treatments. This season's skincare buzz? Cryo Facials.
During a typical Cryotherapy Facial, liquid nitrogen vapors are blown onto the skin. This creates a dramatically tightened appearance and also decreases inflammation. However, having cool vapor blown on your face can be a lot – so, with your comfort in mind, I am using the same ingredients, liquid nitrogen, via two thermal-cooling cryo wands. The delivery may be different, but the results are just as powerful.
Cryotherapy via our NicholsMD Cryo Wands helps to immediately de-puff the skin and calm sensitive areas because blood flow is stimulated and skin is tightened. These new NicholsMD Cryo Wands are weighted and awaken your facial muscles for a fresher, brighter appearance almost instantly.
When Dr. Nichols experienced the NicholsMD Cryo Wands as a client herself she said, "This is exactly what I need post-flight and travel." The immediate relief from any eye puffiness is what makes the NicholsMD Cryo Wand a new aesthetic favorite!
To schedule your next facial using the New! NicholsMD Cryo Wand, click here.
Article by: Jessica Bergquist
Licensed Medical Aesthetican at NicholsMD of Greenwich
Newly Added! Before and After Photos
5 Must Dos When You Have Sunburn
Being lobster-red isn't pretty, nor is it comfortable.
You're at risk for sunburn any time you can see your own shadow, and UV rays are strongest during summer months when the sun is directly overhead, normally between 10:00 a.m. and 3:00 p.m. But, that doesn't mean that while driving, on a cloudy day, or even at 5:00PM, you're not at risk to burn, which is why we recommend you apply a SPF everyday regardless of the forecast, wear protective clothing, and reapply sunscreen of SPF 30 or more every two hours.
"Reapply sunscreen every two hours!"
-Dr. Kim Nichols
But what should you do if you do get sunburn?
Get out of the sun.  If already burned, seek shade or go inside immediately. If you can't immediately go indoors, cover your skin with protective clothing, a wide brimmed hat and/or protective eye wear.
Decrease the inflammation by taking a non-steroidal anti-inflammatory drug (NSAID), such as ibuprofen. This can help with discomfort and inflammation, and it's safe to take NSAIDs as directed until the burn and discomfort subsides.
Take a cold bath. Tip: don't shower or use soap. The shower head will not help already compromised skin heal and using soaps will dry out the skin. Gently soaking in a cool tub is best. Another Tip: Adding oats or 2 scoops of baking soda has added benefits of retaining the skin's moisture in your cool tub.
Moisturize. And Moisturize Again. Aloe and Vitamin E are great in helping to reduce redness and inflammation of sunburned skin. When your skin is burned, keeping your skin hydrated is key. Our #1 recommend product when a client calls with a harsh sunburn is SkinCeuticals Phyto Corrective Gel. We tell clients to apply this soothing cucumber gel twice daily to calm the red, irritated areas. (PS. This Phyto Corrective Gel is now 15% off online as our June Product of the Month!)
Hydrate. Start drinking water immediately. Sunburn causes severe dehydration, fatigue and even heat stroke, so drink more than you think or usually do. Tip: coconut or waters with added electrolytes can be effective in preventing dehydration, but avoid sugary drinks – this will dehydrate you further. And, beginning July 1, NicholsMD is now scheduling Vitamin IV Therapy to replenish your body with essential minerals, antioxidants, and vitamins with our new IV Hydration Therapy in 40 minutes or less.
Prevent. Don't get burned twice. Schedule an appointment for a prescription topical cream and antihistamine for more severe sunburns. It's also not uncommon for your skin to have permanent cosmetic skin damage, like discoloration, from one bad burn. Treatments are available to reverse years of sun-damage.

Meet the Doctor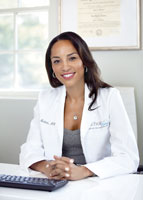 Dr. Kim Nichols is the Founding Director of NicholsMD of Greenwich. A board-certified dermatologist and cosmetic surgeon, Dr. Nichols is renowned for her expertise in the fields of cosmetic and medical/surgical dermatology. She has been featured as an expert speaker by numerous pharmaceutical, dermatological, skin care companies and organizations, such as The Dr. Oz Show, Better Homes and Garden Magazine, CBS New York, Women's Health Magazine, Today.Com, and News Channel12. Dr. Nichols is also a Medical Council Physician Member of The Skin Care Foundation.
Dr. Nichols graduated Cum Laude from Harvard University and attended NYU Medical School. She completed her internship in Internal Medicine at St. Luke's Roosevelt Medical Center and completed her dermatology residency at KDMC/Harbor-UCLA Medical Center in Los Angeles. 

Beyond her leadership in the medical field, Dr. Nichols is a Board Member of the Greenwich, CT YWCA, and Greater New York City American Red Cross. Dr. Nichols lives in the area with her husband and three small children.