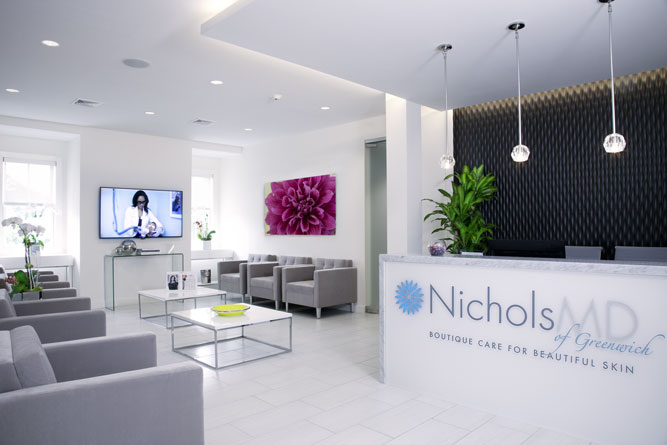 A Personal Note from Dr. Nichols
I hope you're enjoying your spring break, , even with this not-so-spring-likeweather!
On a professional note, this past Friday evening I had the opportunity to connect with dozens of powerful and influential women from Connecticut and Massachusetts at The 100 Women of Color Gala. I was honored to be among the 100 women nominated and recognized for their contributions in business, medicine, education, entrepreneurship, government and public service.
Lastly, we've expanded our NicholsMD Team of professionals, which means we'll be offering more of those coveted evening and Saturday appointments you've been requesting!
We look forward to seeing you at the boutique again soon so we can help you look and feel your most confident self – when Spring finally does decide to arrive.
Best,
Dr. Nichols
Specials and Philanthropy 
Click here to buy the Discoloration Defense!
Procedure Spotlight:
ExcelV Global Revitalization  
Are You Guilty Of Neck Neglect?
We're GIFTING you with a COMPLIMENTARY Neck Treatment Add-On ($400 value) when you purchase one Global Revitalization* Face Treatment ($850) during the month of March!
Many of us are guilty of giving our face the 'lion's share' of attention, leaving our poor neck to fend for itself. At NicholsMD of Greenwich, we believe that your neck is an important extension of your face, deserving the same skin care and treatment for a comprehensive result that leaves you looking and feeling your best.
Check out Dr. Nichols' demonstration of Global Revitalization HERE!
ExcelV Global Revitalization is a non-ablative laser treatment used to effectively even out skin tone by targeting the "browns and reds" in the skin. It helps to reduce redness, diminishes broken capillaries, and lightens brown spots from sun damage. With the added benefit of boosting collagen, this treatment also helps to improve fine lines/wrinkles and minimize the appearance of pores.

Before and After Showcase
3 Treatments of Advanced Pigment Balancing Peels to Minimize Discoloration
2 Ultherapy Treatments to Lift and Tone the Lower-Face and Neck
Tips on How To Shave for Men and Women 
Here are some simple tips from the American Board of Dermatology to help you and your partner get a clean shave!
Before you shave, wet your skin and hair to soften it. A great time to shave is right after a shower, as your skin will be warm, moist and free of excess oils and dead skin cells that can clog up your razor blade.
Next, apply a shaving cream or gel. If you have very dry or sensitive skin, look for a shaving cream that says "sensitive skin" on the label.
Shave in the direction that the hair grows. This is an important step to help prevent razor bumps and burns.
Rinse after each swipe of the razor. Make sure to also change your blade or throw away disposable razors after 5 to 7 shaves to minimize irritation.
Store your razor in a dry area. Between shaves, make sure your razor dries completely to prevent bacteria from growing on it.
At NicholsMD, we know shaving can be annoying and costly long-term. So, click here to request an appointment with our board-certified providers to learn about the permanent solutions we offer, like Laser Hair Removal, so we can help to keep you hair-free!
Meet the Doctor
Kim Nichols, MD, FAAD is the Founding Director of NicholsMD of Greenwich. A board-certified dermatologist and cosmetic surgeon, Dr. Nichols is renowned for her expertise in the fields of cosmetic and medical/surgical dermatology. She has been featured as an expert speaker by numerous pharmaceutical, dermatological, skin care companies and organizations, such as The Dr. Oz Show, Better Homes and Garden Magazine, CBS New York, USWeekly, Women's Health Magazine, The Megyn Kelly Today Show, and News Channel12. Dr. Nichols is also a Medical Council Physician Member of The Skin Care Foundation.
Dr. Nichols graduated Cum Laude from Harvard University and attended NYU Medical School. She completed her internship in Internal Medicine at St. Luke's Roosevelt Medical Center and completed her dermatology residency at KDMC/Harbor-UCLA Medical Center in Los Angeles. 

Beyond her leadership in the medical field, Dr. Nichols is a Board Member of the Greenwich, CT YWCA, and Greater New York City American Red Cross. Dr. Nichols lives in the area with her husband and three small children.