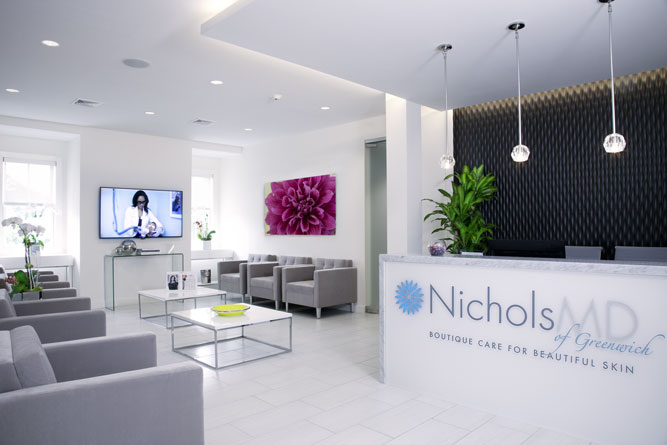 A Personal Note from Dr. Nichols
Happy October! Although you wouldn't know it by the summer-like weather we have been having, it is the time of fall fun with apple-picking, pumpkins and Halloween costumes.


Before NicholsMD…After NicholsMD!
I hope you are enjoying all the festivities with your family. Here at NicholsMD, fall is laser season. And we have the absolute latest and cutting-edge lasers to get your skin looking flawless for the busy fall/holiday season and beyond.
We recently got the Excel V Laser, the gold-standard laser for brown spots, fine lines, broken capillaries, redness and leg veins. We also now have the LaserGenesis, which has been Hollywood's no-downtime go-to for pore-minimizing flawless skin right before big events. And of course, we are always busy with our #1 laser, the tried-and-true Fraxel Dual Laser, otherwise known as "The Eraser". There's just nothing like Fraxel for clearing brown spots and sun damage to reveal new gorgeous skin! So if you are ready to turn back time, schedule an appointment to find out about the many lasers we have at NicholsMD.
I hope to see you in the office soon to help you look and feel your best and most confident today and every day!
Best,
Dr. Nichols
Specials and Features
Procedure Spotlight: Laser Genesis ($325)
This month, we are launching a new unique Laser treatment called LaserGenesis.
LaserGenesis – Beautiful, glowing skin with ZERO downtime!
Treat fine lines, enlarged pores, rough texture, scars, redness and pigmentation all in one treatment!
LaserGenesis gently heats the skin below the surface to stimulate your own natural collagen for smoother, firmer skin. This procedure treats fine lines, wrinkles, improves skin elasticity, and can help with tiny veins and broken capillaries as well as uneven texture and skin tone. Immediately post treatment your skin will be a little pink, but then will quickly give off a fresh, youthful glow.
The treatment is completely painless and can be done in 30-40 minutes. It is perfect right before an event, and even brides can do it the morning of their wedding!
Try it this month for only $325 a session (special offer for the month of October). LaserGenesis can be done as soon as every two weeks. Get the glow!
Aesthetician's Corner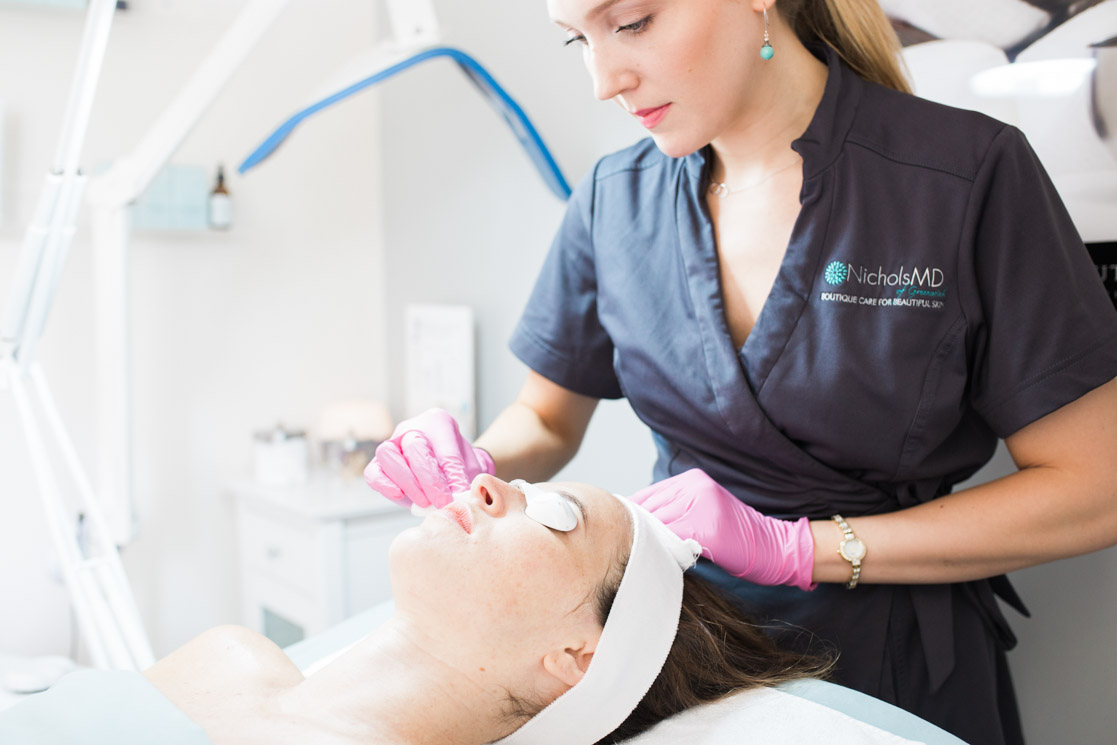 Clients often ask me why they should be using medical-grade skincare products, like SkinCeuticals, instead of over-the-counter products.
Here are 3 reasons why it's worth it to make the investment in medical-grade scientifically-proven skin care products.
#1 Medical-grade products contain higher concentrations of active ingredients, which help them to actually penetrate the skin effectively.
#2 Over-the-counter products are not FDA-approved to treat below the outermost layer of dead skin, which means they are just sitting on the surface and not actually helping to treat the condition of your skin. This is because they are not penetrating to the "live" skin, the dermis.
#3  Medical-grade products are backed by science. Companies spend years and years of clinical research on products before actually launching them onto the market.
Overall, it is always better to choose medical-grade over department store products if you want products that actually work and have the ability to transform your skin. Come to NicholsMD today to speak with a skin care specialist about which SkinCeuticals products are best for you.
Article Written by Jessica Bergquist, NicholsMD's Licensed Medical Aesthetician
National Bullying Prevention Month
October is national bullying prevention month. Bullying among today's youth has become increasingly common, especially with increased rates from cyber-bullying. Up to 77% of teenagers report they have been bullied at school, with acne being one of the leading causes for teens and young adults to feel targeted.
Acne can impact a person across the lifespan, ranging from teens to young adults, and adults. This skin condition whether it be mild breakouts to severe cystic acne, affects a person's confidence and self-esteem.
It is important that parents understand how acne may affect their child. There are so many new, effective acne regimens and treatments that can minimize signs of acne, prevent future breakouts, and reduce signs or appearance of permanent acne scarring.
At NicholsMD, you or your teen will receive a comprehensive skin exam where we will target the exact problem areas while also hearing your own skincare goals.
NicholsMD has a myriad options including unique step-by-step at-home acne regimens, gentle LED light therapy options, effective laser facials, soothing teen facials, and more.
If you are concerned about how your teen's acne may be affecting his or her self-esteem, request an appointment with us. We will develop an effective treatment plan for their acne to help them feel more confident this school year.
Meet the Doctor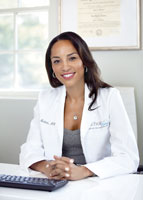 Dr. Kim Nichols is the Founding Director of NicholsMD of Greenwich. A board-certified dermatologist and cosmetic surgeon, Dr. Nichols is renowned for her expertise in the fields of cosmetic and medical/surgical dermatology. She has been featured as an expert speaker by numerous pharmaceutical, dermatological, skin care companies and organizations, such as The Dr. Oz Show, Better Homes and Garden Magazine, CBS New York, USWeekly, Women's Health Magazine, Today.Com, and News Channel12. Dr. Nichols is also a Medical Council Physician Member of The Skin Care Foundation.
Dr. Nichols graduated Cum Laude from Harvard University and attended NYU Medical School. She completed her internship in Internal Medicine at St. Luke's Roosevelt Medical Center and completed her dermatology residency at KDMC/Harbor-UCLA Medical Center in Los Angeles. 

Beyond her leadership in the medical field, Dr. Nichols is a Board Member of the Greenwich, CT YWCA, and Greater New York City American Red Cross. Dr. Nichols lives in the area with her husband and three small children.[/two_third]